Product Description
86mm frame size 8 pole & 3 phase 48v brushless motor for textile machinery , brushless dc electric motor
CNC machinery brushless dc permanent magnet motor / 48v dc motor 8-pole & 3-phase
| | |
| --- | --- |
| Certification: | TS-16949/RoHS/ISO14001 |
| Model Number: | 86BLF |
Payment & Shipping Terms:
| | |
| --- | --- |
| Minimum Order Quantity: | 100pcs |
| Price: | USD 69.00-89.00 per unit |
| Packaging Details: | Carton or negotiation |
| Delivery Time: | 45 working days after received your payment |
| Payment Terms: | negotiation, T/T |
| Supply Ability: | 10,000pcs/month |
Features:
In uniform configuration of 8-pole and 3-phase, with a reasonable rated torque and a high peak one. The rated voltage of this series is 48VDC.

Lower ratings of maintenance due to the absence of both brushes and commutator while it is recommended that our BLDC motors have to be operated both within proper specifications and in a clean environment to avoid any overheat or premature failures.

High-density of stator lamination stacks with paint finish, with a help of closed-type motor construction enables our brushless motors work in a condition of Insulation Class B.

Pass through a full range of inspections especially a breakdown testing at 750VAC 1 minute before delivery to provide 12-month warranty.

The options in mounting configurations are available.
Applications:
This series of BLDC motors is widely applied to CNC machinery, textile machinery, carpenter machinery, and fitness equipment.

Specifications:
Model

Rated Current (A)

Rated Speed (rpm)

Rated Torque (N.M)

Output Power

(Watts)

Peak Torque (N.M)

Peak Current (A)

Torque Constant (N.M/Amps)

BackEMS(V/k RPM)

Rotor Inertia (g.cm2)

Motor Body Length (L)

Weight

(kg)

86BLF01

≤14

3000

1.4

440

4.2

38

0.115

12

1250

94

2.75

86BLF02

≤9.6

3000

1.05

330

3.2

29

0.115

12

950

81

2.2

86BLF03

≤6.6

3000

0.7

220

2.1

19.8

0.112

11.8

650

67

1.75

86BLF04

≤3.9

3000

0.35

110

1.05

10.8

0.11

11.5

350

57

1.1

86BLF06

≤18.0

3000

1.8

550

5.4

46

0.115

12

1550

109

2.75

86BLF07

≤22.0

3000

2.1

660

6.3

55

0.116

12.2

1850

124

2.75
Dimensions:
(Unit=mm)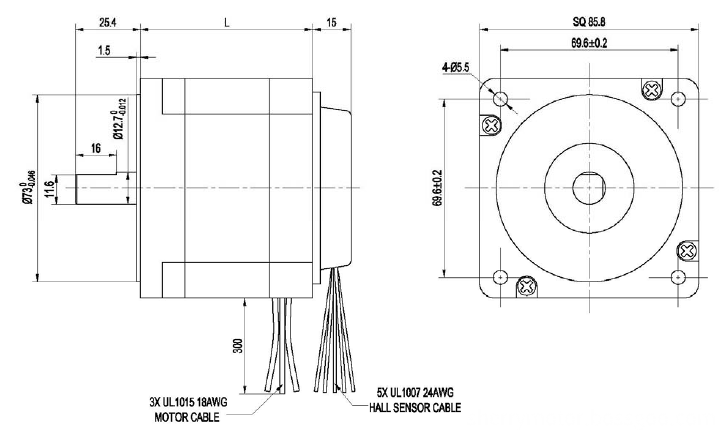 Mechanical Characteristics