Product Description
The product general information:
| | |
| --- | --- |
| Brand Name: | Sherry Motors |
| Model Number: | 85BYGH |
| Certification: | |
| Place of Origin: | China |
Product commerce clause:
| | |
| --- | --- |
| Minimum Order Quantity: | |
| Price: | |
| Payment Terms: | T/T or negotiation |
| Supply Ability: | |
| Delivery Time: | |
| Packaging Details: | Carton or negotiation |
Features
1. At a step angle of 1.8°, the 85mm series of hybrid stepper motor delivers a higher holding torque varying from 2.1N.m to 9.3N.m. This wide range of holding torques makes the stepper motors better fit the applications for different industries. Choices of holding torques are mode by motor designers based on the specific application.
2. The stepper motors are provided with options of either 2-phase windings or 4-phase ones. NMB brand ball bearings are built into the motors to increase the reliability of the motor. Improved reliability is also the result of the brushless motor design. Therefore the life of the stepper motor is simply development on the life of the ball bearing.
3. It is strongly recommended that the stepper motors are running at ambient temperature from -20℃ to +50℃ to prolong the motor life. Also you can contact our technical team to guide you how to select a proper motor driver to make the motor do a good job in fine positioning.
Applications
This range of hybrid stepper motor is regularly used for flame/plasma cutting machines, laser cutting machines, industrial robots, as well as CNC metal processing machinery.
Specifications
Model

Step Angle (°)

Motor Length L(mm)

Phase Voltage (V)

Phase Current

(A)

Phase Resistance (Ω)

Phase Inductance (mH)

Holding Torque (kg.cm)

Lead Wire (NO.)

Rotor Inertia (kg.c㎡)

Weight (kg)

85BYGH450A-001

1.8

75

4.4

2

2.2

10

2.1

8

1.4

1.7

85BYGH450A-002

1.8

75

3

3

1

4.4

2.1

8

1.4

1.7

85BYGH450B-002

1.8

113

6.4

2

3.2

12

4.1

8

2.7

2.8

85BYGH450B-004-01

1.8

113

2.48

3.5

0.53

6.5

6

4

2.7

2.8

85BYGH450B-008

1.8

113

2.5

6

0.43

2.5

4.1

8

2.7

2.8

85BYGH450C-001

1.8

151

7.8

2

3.9

20

6.4

8

3.6

3.7

85BYGH450C-012

1.8

151

5.7

3

1.9

22

9.3

4

3.6

3.7

85BYGH450D-002

1.8

94

3.2

4

0.8

3.5

4.3

8

1.7

2.1

85BYGH450D-007

1.8

94

6.4

2

3.2

15

4.4

8

1.7

2.1
*The aboved are just representative products. Derivative products can be produced according to customer's requirements
Outline Dimensions (Unit=mm)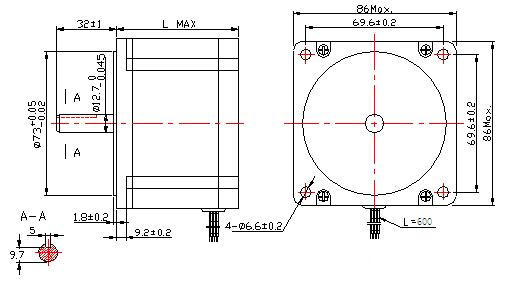 Wiring Diagram

Torque-frequency Characteristics