Product Description
Wye-windings permanent magnet brushless dc motors enforced NEMA Size 23
NEMA Size 23 BLDC motors square flange enforced with Nd-Fe-B magnets
| | |
| --- | --- |
| Certification: | TS-16949/RoHS/ISO14001 |
| Model Number: | 57BLF |
Payment & Shipping Terms:
| | |
| --- | --- |
| Minimum Order Quantity: | 500pcs |
| Price: | USD 23.00-49.00 per unit |
| Packaging Details: | Carton or negotiation |
| Delivery Time: | 40 working days after received your payment |
| Payment Terms: | negotiation, T/T |
| Supply Ability: | 15,000pcs/month |
General Description
Winding Connection Type -----Star Connection
Hall reflection Angle --------120º Electrical Angle
Insulation Class ---------B-class Insulation
Ambient Temperature--------20℃~+50℃
Insulation Resistance -------Min 100MΩ . 500V DC
Dielectric Strength --------500V AC 1 Minute
Features:
NMB or SKF sealed bearings, dynamically balanced rotor and high-density stator lamination stacks are well controlled within tolerance to improve our motor performance.

It generates less noise and is less prone to sparking due to the lack of a commutator.

Low vibration, quick acceleration and consistent speed to provide a nice torque-speed curve.

In a configuration of 8-pole and 3-phase, the brushless motor is typically smaller and lighter than the brushed one. This makes the brushless motors ideals for applications where weight and space are important factors.
Applications:
The products are perfect for applications in the industry such as heavy duty equipment, aerospace, and military.

Specifications:
Model

Rated Voltage (V)

Rated Current (A)

Rated Speed (rpm)

No. of Pole

No.

of Phase

Rated Torque (N.M)

Peak Torque (N.M)

Peak Current (A)

Torque Constant (N.M/Amps)

BackEMS(V/k RPM)

Rotor Inertia (g.cm2)

Motor Body Length (L)

57BLF01

24

≤4.0

3000

8

3

0.2

0.6

≤12

0.065

6.23

120

48

57BLF02

24

≤7.8

3000

8

3

0.4

1.2

≤23.5

0.066

6.3

170

69

57BLF03

24

≤12.0

3000

8

3

0.6

1.8

≤36

0.066

6.3

220

90

57BLF04

24

≤15.0

3000

8

3

0.8

2.4

≤45

0.066

6.3

270

TBA

Dimensions:
(Unit=mm)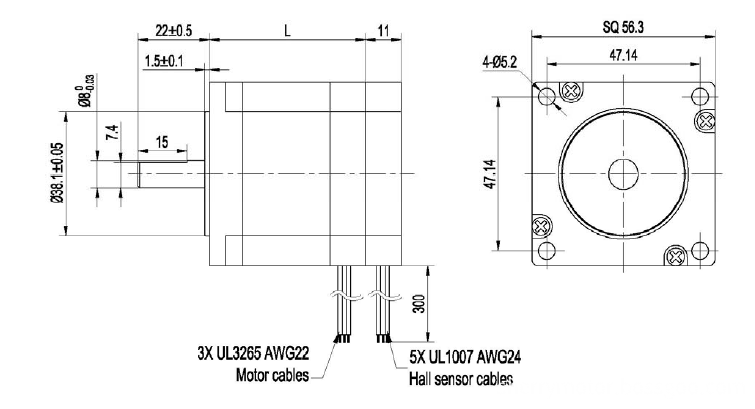 Wiring Diagram: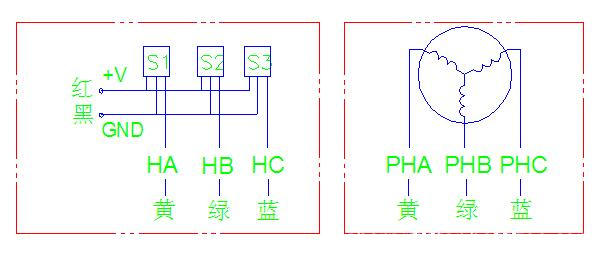 Attention: Hall Operation Voltage: +5VDC~+20VDC
Mechanical Characteristics